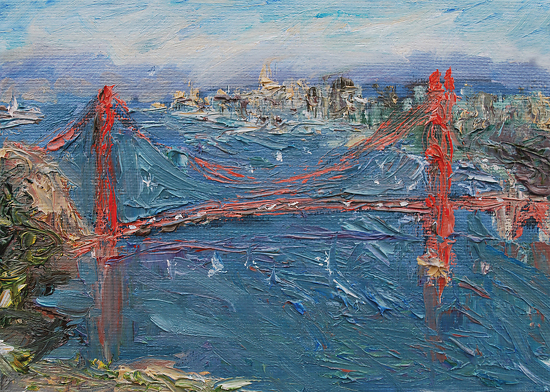 The Golden Gate Bridge on a Sunny Windy Afternoon.
To purchase original paintings, see Portfolio of Oil Paintings.
To purchase products with reproductions of paintings, see Products for Sale.
To purchase canvas prints in large sizes, go to www.janetarlinebarker.smugmug.com
Great news! "Entrepreneur Success Stories, Vol. 1" is now available for sale.
I wrote the chapter called Go Where the People Are, Go Where the Money Is: An Artist's Strategy for Offline Marketing.
Janet talks about the chapter she wrote
here
.
"Entrepreneur Success Stories Volume 1"
is a collection of stories and valuable advice from regular people who have achieved entrepreneurial success. It depicts marketing strategies for new and traditional media, a blueprint for starting a business, and methods for fine-tuning an existing business. Whether you are employed, underemployed, or unemployed, this book will inspire you to follow your passion to create a successful business.